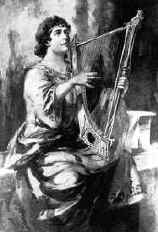 David Plays His Harp To Soothe King Saul.
Pray the Rosary-Today we meditate on: The Five Luminous Mysteries
Please press ORANGE arrow to begin Podcast message.
The Harp has been considered a healing instrument and is one of the first instruments mentioned in the Bible. What role does the harp play in medicine today? Enough that some hospitals and other medical facilities incorporate harp therapy as part of their post operative care. Harp Therapy is still being studied and being introduced into hospitals, hospices, nursing homes and even spas throughout the Country.
The benefits of live harp music:
Reduces stress
Eases the childbirth delivery process for the mother
Aids in post-operative healing
Reduces the need for pain medication
Improves mood and spirit
Balances blood pressure and so much more.
The documented Health benefits from clinical studies go on and on.
A small harp such as the picture below is used for therapy.
The Rosary Makers Harp (:
This harp was designed especially for me according to my specifications. I chose the wood, the type of strings and you can even have a design hand-carved as well.
I chose maple because it produces a clear and crisp sound. It takes the harp maker about three months to complete. For many years, I played on a folk harp which are considerably larger but I must say that my therapeutic harp has a powerful voice.
Therapeutic harpists provide soothing music so we play to benefit the bedside patient. I encourage you to research Harp therapy.
We are not medical experts and strongly suggest that you consult with a medical professional for any medical concerns and advice.
1 Samuel 16:23
And whenever the tormenting spirit from God troubled Saul, David would play the harp. Then Saul would feel better, and the tormenting spirit would go away.
The grace of Jesus Christ be with you
May This Day Offer You Just What You Need In Each Unfolding Moment.
Smiles and Hugs,
Your Rosary Maker
Thank you for your time.
© 2014 Cieloscent